Basic Information
Other Names: DiSodium Salt Of Diethylene Triamine Penta (Methylene Phosphonic Acid)
Molecular Formula: C9H28-XO15N3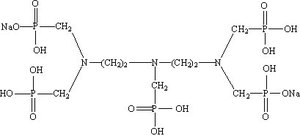 P5Na2
CAS NO.: 22042-96-2
EINECS NO.: 244-751-4
Purity: 45% min.
Physicochemical Properties
1.Appearence: Dark red brown liquid
2.PH : 2.0-3.0 (10g/l @25℃)
3.Flash point::Non flammable aqueous solution
4.Specific gravity: 1,37 - 1,47

5.Partition coefficient n-: 3,5 @ 20℃
6.Freezing point: -20℃
7.Water solubility: completely miscible
Technical Specifications
Name of Index

Index

Appearance

Dark red brown liquid

Active component (as DTPMPA)%

45.0-49.0

Total Phosphorus (as PO43-)%

38.0-40.0

Chloride (as CL-) % ≤

5.0

Fe(as Fe2+) ppm

≤

20

PH (1% solution)

2.0-3.0

Density (

20

℃) g/cm3

1.37-1.47
Packaging Types
Normally in 30kg or 250kg plastic drum, can be determined by clients .
Applications
DTPMP · Na2 is formed with different forms of DTPMP sodium salt, DTPMP·Na2 can be used as scale inhibitor, efficient chelating agents, excellent BaSO4 scale inhibitors, widely used in cooling water reatment, peroxide bleaching stabilizer, washing help agent, municipal industrial clean water, ground water treatment, oil field scale.
Transport Information
Storage: Storage for ten months in room shady place.