Basic Information
Other Names: Tris (2-chloro-2-propyl)phosphate; TCPP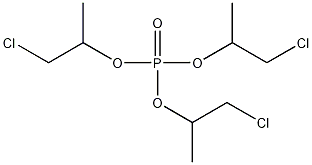 Molecular Formula: C9H18O4CL3P
Molecular Weight: 327.59

CAS NO.: 13674-84-5
EINECS NO.: 237-158-7
H.S. CODE NO.: 2919900090

Purity: 99% min.
Physicochemical Properties
1.Melting Range: -<20°C
2.Boiling Range: 288°C (Decomposes)
3.Viscosity: 89.1, 20mCcSt@ 40°C
4.Density: 1.28g/cm at 20℃
5.Decomposition Temp: >150℃
6.Autoignition Temp: >400℃
7.Vapour Pressure: 1.4 X 10-6
8.Flash Point: 218°C

9.Solubility in water (g/L): Immiscible
7.Stability: Presence of incompatible materials
Technical Specifications

Indexes

Guaranteed Specification

Appearance

Clear colorless viscous liquid

Acidity

0.8 mgKOH/g max.

Viscosity (25 degrees)

56 - 58mm2/s

Water content

0.15% max.

Specific gravity (20 degree)

1.27-1.31

Flash point (degrees)

240

Decompose humidity (degrees)

230

TCPP common additive use level

5-10%

Odor

Light

Chlorine content (%)

32.10%~32.5%

Color

(APHA)

50

Max

.

Phosphorus content(%)

9.20%~9.5%
Packaging Types:

24MT/ISO TANK; 200kg galvanized iron barrel; 1000KG IBC drum
Applications
It is a series of phosphorus flame retardant, with stable performance, superior hydrolytic stability, UV-resistant. Widely used for flexible and rigid polyurethane acid bubbles, polyvinyl chloride, polyvinyl acetate, phenolic resins and epoxy, such as flame retardant materials. Used directly or made into emulsion, or carpets, raincoats, such as fabric, rubber. Also used for fire-retardant coatings and additives.
Storage Information
Storage: Store in a dry and cool place. Keep away from sources of ignition. Store in a cool place in the original container and protect from sunlight. Keep refrigerated. Store in a tightly closed container. Store protected from moisture. Store protected from light.